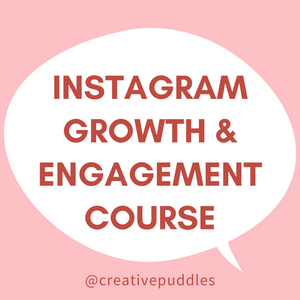 Instagram Growth & Engagement course
Regular price £49.00 Black Friday Sale!
I get asked all the time: 

"How have you grown such a large following and how do you get so much engagement on your posts?"
THIS course is the answer! In this course, I share with you my secrets and the exact methods I follow to continually grow my audience (with the right kind of followers not just any old followers!) Learn exactly where your ideal customers and clients are on Instagram and how to draw them back to your feed. You'll also learn how to encourage engagement. - and remember, great engagement kicks that algorithm in your favour ➡ meaning that Instagram will show your post to even more of your followers and potential new followers ➡ resulting in yet more engagement and more followers!

So if you're done struggling to grow your feed and if you're fed up with the tumbleweed, sign up to this course and let's turn that around!
This is a self-paced course which you can start at anytime to suit you and your schedule. Once you purchase the course you will have immediate access. But because I'm rooting for you and I care about you completing the course and getting the results, there is guidance on how to schedule in the course into your diary to make sure you take action and get it done! There's also an offer of some accountability if you wish to take that up!


FAQ's:
Is this suitable for product-based or service-based businesses?
Both! I've worked with both types of business successfully on Instagram.
Is this course suitable for beginners?
This is suitable for you at any stage of your Instagram journey but please note that the course focuses specifically on learning how to attract your ideal customers & clients to your Instagram feed; how to encourage engagement and increase your following. You may wish to book an Instagram Power Hour to discuss any other Instagram topics with me. 
How long does the course take to complete?
There are 10 tasks and each task should take you between 30 and 60 minutes to complete. So you could do 1 task a day for 10 days (i.e. Mon to Fri for 2 weeks) or you could choose 1 day each week when you have availability to complete 1 or more tasks. Whatever suits your schedule.
What format is the course in?
These are text lessons with worksheets and checklists to keep you on track after each task.
I'm not based in the UK, can I still purchase this course?
Yes sure! Please use a currency converter to get an idea of the price in your own currency.
Any other questions? Please just ask me, Triinu: hello@creativepuddles.com or DM me over on Instagram.