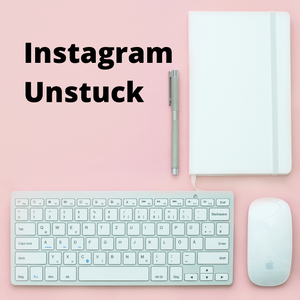 Instagram Unstuck
Regular price £259.00 Black Friday Sale!
Have you got stuck on Instagram? Or are you a beginner*?

If your growth and engagement is slow and unpredictable and if you're not making sales as a direct result of Instagram then this is for you.
Let's spend 3 or 4 x one hour sessions getting you unstuck on Instagram (if you're NOT a beginner then you may not need session 1. Pls get in touch to discuss: hello@creativepuddles.com )
This is what we'll cover:
Session 1: How to make a great first impression on Instagram (so that scrollers can't resist clicking and becoming followers).
Session 2: How to create engaging posts (so that people engage, join your community and become customers).
Session 3: How to find your ideal customers and draw them back to your feed (so that when you have something to promote you have followers who are interested to buy!)
Session 4: How to use hashtags correctly to increase your visibility (understand the power of hashtags!)
The sessions will be held via Zoom and after each session you'll have follow up homework to do. You can decide how much time you would like between each session depending on your schedule.
Once you purchase 'Instagram Unstuck', I'll get in touch with you within 48 hours (excluding evening/weekends) to arrange a date and time for the first call. I'll also ask you to fill in a short questionnaire so that I can get to know more about you and your business. 
*If you are a beginner then to get the most out of these sessions you should have set up an Instagram account, written a bio, chosen a bio image and posted 3 posts on your grid (This will then give us a great starting point). 
Please provide your Instagram @username at the time of purchasing. You can add this as a note to your booking form.
Read how I've helped other small business owners: Testimonials
If you have any questions at all then please email me: hello@creativepuddles.com