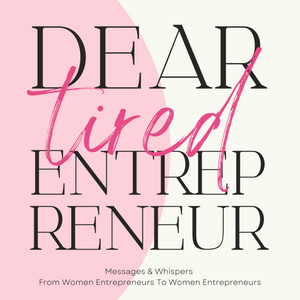 Dear Tired Entrepreneur: Audiobook
Regular price £7.00 Sale price!
If you're tired of all the noise of the online world, this book is for you!
Because we're not all interested in that "laptop lifestyle" thing, we don't all look like supermodels, we don't want to "crush it", and hustle culture is not something we're about...and that's OK! That does NOT have anything to do with business success. And like you, we're tired! We don't want you to surrender to the noise or give up.
💕You matter
💕Your message matters
💕Your work matters
💕and guess what? You're actually doing way better than you think you are!
In this book, we came together to share a few important messages with you and whisper a few key things in your ears that we know you need to know, hear, and believe.
How do we know? Because we are you! We're the tired yet loving and supportive entrepreneurs.
We've been doing this business thing for years. We've had our challenges, we've had our ups and downs, we've survived almost everything life threw at us in business and we want to be your support circle! Something we wish we had when we were tired and questioning it all. 
This book is for you if you're looking for a supportive and inspiring collection of messages in your ears that assures you you're not alone, you're not a failure, and you're definitely not crazy for wanting what you want or for being tired of it all sometimes.
So...who created this book?
This book is a collaborative project that was created with lots of love, laughs, and passion from 9 women in business who have a lot of magic to share with you and a lot of love to gift you.
So, if you're ready to invite some magic into your business, feel supported and loved, and get a ton of clarity in your business, we can't wait to share our messages with you! Grab your copy of our audiobook and let's make some magic together.
*Once purchased you'll receive your access link in a PDF.
Say hello to your new business support circle! You can call us your new business besties! And this is a little hello from each co-author and what will you get from her chapter inside this book: