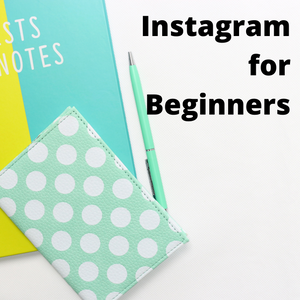 Instagram for Beginners Workshop
Regular price £15.00 Sale price!
PLEASE NOTE YOU ARE PURCHASING THE WORKSHOP RECORDING which took place last Monday the 29th Nov. It's jam packed with information so make sure you have a pen and paper handy! You will have access to the recording until 27/12/21 so please allocate a slot in your diary to watch the recording.
This is for you if you're new to Instagram, if you're struggling to understand how Instagram can help your business or if your answer to the question "what do you struggle with most on Instagram" is "everything" !
If you are finding Instagram overwhelming, daunting and confusing then by the end of this workshop you will have confidence, clarity and a plan of action.
During the workshop I will be covering the all important issue of visibility:
-How your ideal customers and clients find your feed
-How to get them to stay i.e. click follow
-How to keep their attention
-How to grow the know, like and trust factor
-How to turn them into customers 
Next year I'll be offering more workshops which will dive deep into each individual Instagram tool like how to use stories/captions/hashtags/reels etc etc but it's essential to first have a good foundation and to understand the right approach so that you can get the most from Instagram.