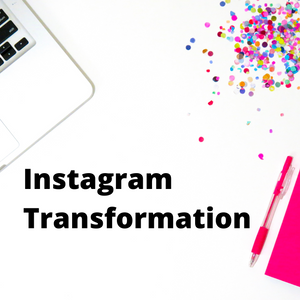 Instagram Transformation
Regular price £550.00 Sale price!
Join Instagram Transformation and transform your Instagram! Tailor-made Instagram training (suited to you, your business and specific niche) plus accountability to keep you on track.
This program involves a series of one hour training sessions focussing on strategies to get you those leads and make those sales - plus regular half hour accountability calls designed to motivate you to implement everything you learn.

This is usually completed over 8 weeks but timings can be adjusted to suit your schedule:

Week 1: Session 1 - How to make a great first impression on Instagram so that scrollers can't resist clicking and becoming followers.
Week 2: Accountability call - Let's check in with each other: we can discuss changes you've made & tasks you've completed since the training session; answer any questions that may have cropped up and discuss the training in action on your feed.
Week 3: Session 2 - How to create engaging posts so that people engage, join your community and become customers.
Week 4: Accountability call (as above).
Week 5: Session 3 - How to find your ideal customers and draw them back to your feed so that when you have something to promote you have followers who are interested in buying!
Week 6: Accountability call.
Week 7: Session 4 - The power of hashtags – both to draw attention to your content and to discover the content of your ideal customers allowing you to cement customer relations. 
Week 8: Accountability call.

The sessions will be held via Zoom and after each training session you'll have follow up homework to do. 

Once you purchase 'Instagram Transformation', I'll get in touch with you within 48 hours (excluding evening/weekends) to book in the sessions. I'll also ask you to fill in a short questionnaire so that I can get to know more about you and your business. 
If you are a beginner then to get the most out of these sessions you should have set up an Instagram account, written a bio, chosen a bio image and posted 3 posts on your grid (This will then give us a great starting point). 
Please provide your Instagram @username at the time of purchasing. You can add this as a note to your booking form.
Read how I've helped other small business owners: Testimonials
If you have any questions at all then please email me: hello@creativepuddles.com or message me to arrange a chat.