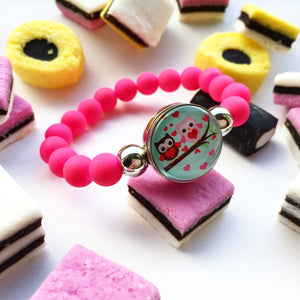 Kids owl bracelet
Regular price £10.00 Sale price!
Ready to wear. We have matched up this gorgeous pink kids bracelet with this cute owl charm.
It is a stretchy bracelet and is made with acrylic beads. Please note: the owl is a removable charm. This is not a toy and is not suitable for children under the age of 6 due to removable parts which could cause a choking hazard. By purchasing this bracelet the buyer takes full responsibility for supervising the child with this bracelet.
This is part of our Get The Look collection which is a selection of bracelets and charms that we have matched up for you. If you would prefer to design your own bracelet then please take a look at the separate bracelet and charm collections.