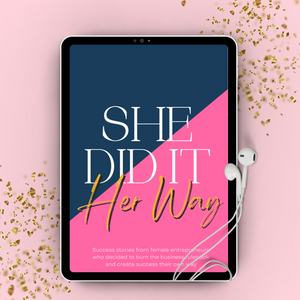 She Did It Her Way: Audiobook
Regular price £7.00 Sale price!
Introducing "She Did It Her Way" - an audiobook packed with inspiring success stories from fierce female entrepreneurs who threw out the rule book and built their businesses on their own terms. You see, we believe it's time for all those glass ceilings to shatter into a million glittery pieces ✨
This isn't just any old audiobook; it's like having a front-row seat at a power-packed conference where these incredible women share their triumphs, mishaps (we all have them!), and invaluable lessons learned along the way. From startup stumbles to breakthrough moments of genius - they spill it all ✨
Imagine listening as one entrepreneur after another peels back layers of vulnerability while giving you goosebumps-inducing insights into how they harnessed their unique powers. Get ready because each chapter is designed not only to inspire but also ignite sparks within YOU ✨
*Once purchased you'll receive your access link in a PDF.
This audiobook is a collaborative project that I have created along with a remarkable cast of entrepreneurial superheroes...